Indian Government has extended the deadline to link Aadhaar with PAN Card which is 31 March 2021. This is one of the mandatory processes if you want to transact Rs.50,000 or above. This how to link PAN card with Aadhaar card guide will help you through a step by step process so you will no have any problem.
Just follow these simple steps to link your Aadhaar with PAN card online:
Steps to link Aadhaar with PAN through e-filing website
Step 1: Simply visit the e-filing website with this link https://www1.incometaxindiaefiling.gov.in/e-FilingGS/Services/LinkAadhaarHome.html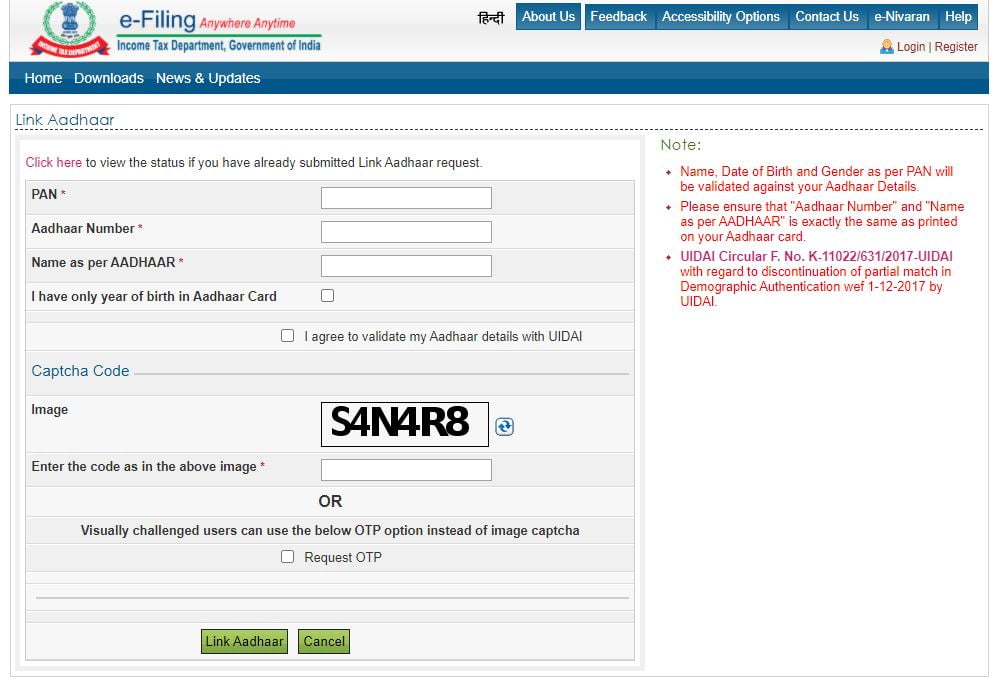 Step 2: Enter your PAN number, Aadhaar number, and Name as mentioned in your Aadhaar card.
Step 3: If your Aadhaar card has your birth year, only then click on the checkbox provided. Otherwise, you can leave it.
Step 4: Click the checkbox with says "I agree to validate my Aadhaar details with UIDAI".
Step 5: Enter the Captcha shown in the image. Or, visually challenged users can get OTP by clicking on the Request OTP checkbox.
Step 6: After filling in all the correct details, finally click on the Link Aadhaar button.

You will get a message for successful linking on your screen.
Now you have successfully linked your Aadhaar with PAN Card.
How to Link Aadhaar with PAN Card in Case of Name MisMatch
In case of your name is different in the Aadhaar card and PAN card and if it is a big mismatch or names are totally changed, only then it is necessary for you to update the name either in the Aadhaar card or PAN card. Otherwise, it will be linked easily.
---
आधार को पैन कार्ड से कैसे लिंक करें
भारत सरकार ने आधार को पैन कार्ड से जोड़ने की समय सीमा बढ़ा दी है जो कि 31 मार्च 2021 है। यदि आप 50,000 रुपये या उससे अधिक का लेनदेन करना चाहते हैं तो यह अनिवार्य प्रक्रियाओं में से एक है।
बस अपने पैन कार्ड के साथ अपने आधार को लिंक करने के लिए इन सरल चरणों का पालन करें:
ई-फाइलिंग वेबसाइट के माध्यम से आधार को पैन से लिंक करने का तरीका
1: बस इस लिंक https://www1.incometaxindiaefiling.gov.in/e-FilingGS/Services/LinkAadhaarHome.html के साथ ई-फाइलिंग वेबसाइट पर जाएं।
2: अपना पैन नंबर, आधार नंबर और नाम दर्ज करें जैसा कि आपके आधार कार्ड में दिया गया है।
3: यदि आपके आधार कार्ड में केवल आपका जन्म वर्ष है, तभी दिए गए चेकबॉक्स पर क्लिक करें। नहीं तो छोड़ दीजिए।
4: "मैं UIDAI के साथ अपने आधार विवरण को मान्य करने के लिए सहमत हूं" चेकबॉक्स पर क्लिक करें।
5: इमेज में दिखाए गए कैप्चा को एंटर करें। या, नेत्रहीन उपयोगकर्ता, ओटीपी चेकबॉक्स पर क्लिक करके ओटीपी प्राप्त कर सकते हैं।
6: सभी सही विवरण भरने के बाद, अंत में लिंक आधार बटन पर क्लिक करें।
आपको अपनी स्क्रीन पर सफल लिंकिंग के लिए एक संदेश मिलेगा।
आधार कार्ड को पैन कार्ड से लिंक कैसे करें, अगर नाम में बदलाव या मिसमैच है।
यदि आधार कार्ड और पैन कार्ड में आपका नाम अलग है और यदि यह बिलकुल भी मेल नहीं खता है, केवल तभी आपके लिए आधार कार्ड या पैन कार्ड में नाम को अपडेट करना आवश्यक है। अन्यथा, यह आसानी से लिंक हो जाएगा।
Please share this blog with your friends: