Mobile number plays the most important role in Aadhaar Card. In order to change or correct anything in your Aadhaar Card, you need to have a mobile number linked where you can receive the OTP. This easy-to-follow guide will take you through the steps to update or change your mobile number in your Aadhar Card.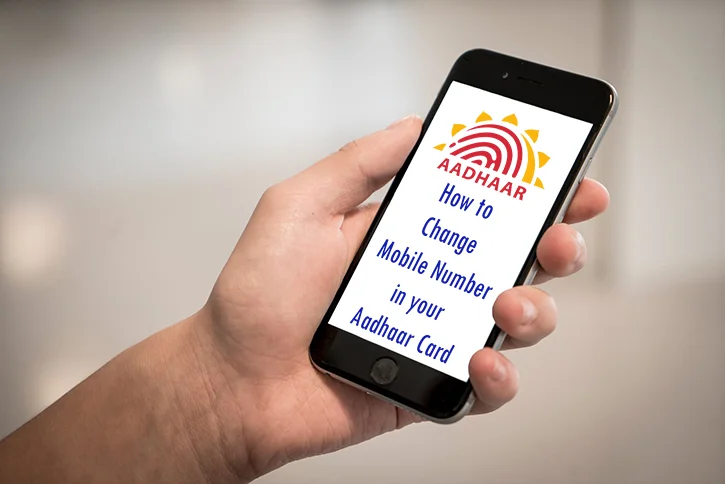 If you have declared your mobile number at the time of enrolment, you don't need to worry about it as far as you are keeping this mobile number active.
Click here to know how to verify your existing mobile number or email.
If you didn't declare your mobile number at the time of enrolment, or your mobile number is lost then you are required to visit the nearest Aadhaar Enrolment Centre. Don't worry, this will also be explained below.
You can find the nearest Aadhaar Enrolment Centre by entering your PIN code, State, or by using the search box given for the easiness of the user.
Online Process of Changing Mobile Number In Aadhaar Card
The process of changing mobile number online is very easy. You don't need to go anywhere.
This way, you are keeping in mind that your old mobile number is linked with your Aadhaar Card and you are ready to receive the OTP. As of now, You cannot change your mobile number online without OTP. No document is required for updating/changing the mobile number.
Simply visit the Aadhaar Self Service Update Portal > https://ask.uidai.gov.in/
Enter your Mobile Number or Email ID.
Enter Captcha Verification Details.
Click the Send OTP button.
Now enter the OTP received in your mobile number on the same page.
Click the Submit OTP & Proceed button.
Now click on Update Aadhaar.
Enter your Name & Aadhaar Number as in the Aadhaar card and select Mobile Number checkbox and click proceed.
Now Enter your new mobile number and captcha then click Send OTP.
Enter the received OTP and click Save and Proceed.
Check your details and click on the Submit button.
Please share this blog with your friends: